Translational Science Q&A: COVID-19 Rapid Response pilot awardees launch startup, receive UIC Inventor of the Year Award
In Fall 2020, the Center for Clinical and Translational Science awarded a round of rapid response pilot projects in order to combat the COVID-19 pandemic. Michael Caffrey, professor of biochemistry and molecular genetics and Igor Paprotny, associate professor of electrical and computer engineering, received funding for their project, "Real-Time Sensing of COVID-19."
This project sought to develop a microfluid sensing device to measure aerosolized SARS-CoV-2 virus in real-time, allowing for continuous montoring of viral exposure in public spaces like hospitals, airplanes and auditoriums.
Since that time, Drs. Caffrey and Paprotny achieved great success with their airborne virus detection prototype and startup company, BioAerium, including earning UIC's 2022 Inventor of the Year award.
When CCTS caught up with Caffrey and Paprotny, they discussed the project's early days, shared an update on the progress to date, and contemplated the future of autonomous viral surveillance.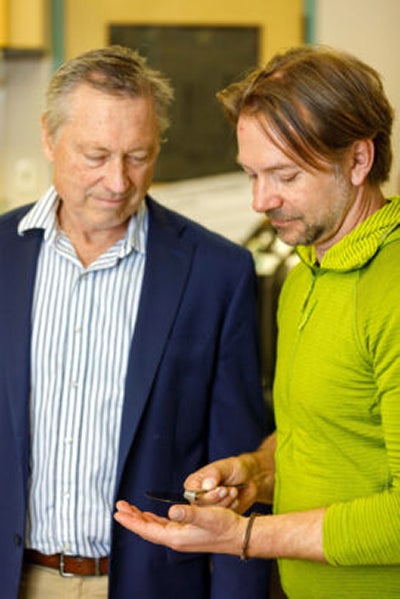 Q: What brought you together as collaborators on this project?
We initially started to work on influenza detection and with the onset of the COVID-19 pandemic we quickly pivoted to a focus on SARS-CoV2. Before this, Dr. Paprotny has been working in the area of aerosol detection for 10 years, and so the switch to detection of bioaerosols was a natural fit for him.
Q: Was any groundwork for this project done before your collaboration? Were you able to use foundational knowledge from previous projects to kickstart this one?
This project is an example of serendipity. One of us has expertise in viruses and the other has expertise in microfluidic devices. Consequently our previous work was complementary and enabled us to quickly identify our goals and potential pitfalls. Once the pandemic started, we were able to rapidly move forward to start working on solutions for COVID-19. That lead to rapid development of the system known as BioAerium, which is the foundation for our technology today.
Q: Why does the world need aerosolized virus detection devices?
Airborne viruses will continue to pose health threats to humans, particularly those that cross over from other animal species. For example, avian influenza strains widely circulate in birds and when they cross over to humans the mortality rate is >50%. To date the cross over rarely happens but influenza, just like all viruses, is constantly mutating and it seems likely that avian influenza strains will eventually mutate to be highly transmissable in humans.
We believe that mitigation by detection devices will play a central role in protecting humanity from the next pandemic. As the population density increases, so will the potential impact the next pandemic can have. We envision that fast detection methods are the key to protecting urban populations, and can be installed in transportation hubs, airplanes, meeting places, subways, individual homes etc. A positive signal would inform a group of individuals about a possible exposure before the individuals become infectious themselves. The concept would achieve, essentially, what is achieved with contact tracing, just with infinitely higher speed and efficiency. For example, if our systems were mandated to be installed in all airplanes, we likely would have significantly slowed the spread of COVID-19 in the early days of the pandemic.
Q: Challenges are inevitable in any project. What issues have you encountered and how did you overcome them?
The major challenge of our work is obviously obtaining sufficient financial support, as some of the work/fabrication techniques are quite capital intensive. This is where the CCTS seed funding was instrumental to keep us going early on. Having said that, we have been quite lucky in the regard of obtaining funding and forming industrial partnerships. Also, as with any highly multidisciplinary project, the actual physical implementation of highly cross-disciplinary engineering solutions is a challenge. A lot of these solutions, for example applications of paper microfluidics, are foundations for the developed IP.
Q: Where does the study stand now? What are the next steps in translation?
We are actively testing prototypes of our systems, working on disseminating the results, as well as applying for more funding. Our group is expanding, and looking at other pathogens than COVID. Our long-term goal is to deploy autonomous surveillance systems, similar to smoke detectors, worldwide that are interconnected that would enable surveillance of known and unknown pathogens that suddenly appear. We feel that this surveillance network will be essential in prevent future similar outbreaks.
Q: Given that the state of COVID-19 is not what it was in 2020, what impact could this intervention have on society today?
We believe that the threat of COVID-19 will continue well into the future due to its potential to constantly mutate. We are expanding our focus to look at other pathogens, for example returning to detecting influenza strains, which we feel have the potential to be even more deadly than the current COVID-19 pandemic. Although we cannot talk about the specific solutions just yet, the combination of data science, engineering, and biology allows our technology to be adapted to any identified airborne pathogens. With ever increasing global population, we feel this technology is essential to prevent the next pandemic.
Modified on May 15, 2023