Zine for Young Adults
Stacy Arriola
Student, UIC College of Nursing
Nirali Chauhan
Student, UIC College of Medicine
Shukri Ideis
Student, UIC College of Pharmacy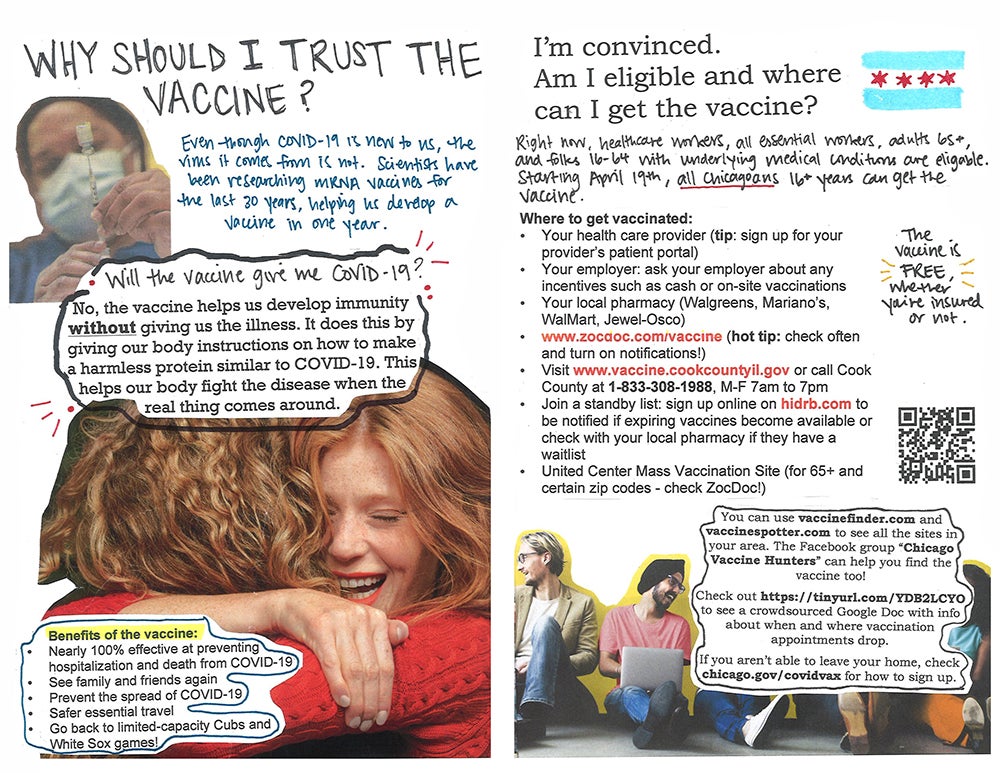 Rationale:
The 2021 Pew Research Center polls indicate that young Americans ages 18-29 years old are the least likely to say they would get the vaccine even if it were available to them today (1).  A campus study at a Connecticut public university found that out of 600 graduate and undergraduate students, 30% said they wouldn't get the vaccine and 20% were undecided (2). According to the 2021 Kaiser Family Foundation Poll, 25% of young adults ages 18-29 are in the "wait and see" group to see how others respond to the vaccine before deciding to get vaccinated themselves (2). For those who have not decided yet to get the vaccine, one effective argument for this group was hearing that "vaccines are nearly 100% effective at preventing hospitalization and death from COVID," with 41% changing their minds after hearing this (2). Specifically for the "wait and see" group, 50% would be more likely to get the vaccine if it was part of a routine medical appointment, 37% would be more likely to get the vaccine if their employer arranged for on-site vaccinations, and 38% would be more likely to get the vaccine if their employer incentivized it with $200 (2).
Works Cited:
1. Dennon, A. (2021, March 30). When Will College Students Get the COVID-19 Vaccine? Retrieved from https://www.bestcolleges.com/blog/when-college-stud ents-will-receive-covid19-vaccine/
2. Huetteman, E. (2021, March 30). Covid Vaccine Hesitancy Drops Among All Americans, New Survey Shows. Retrieved from https://khn.org/news/article/covid-vaccine-hesitanc y-drops-among-americans-new-kff-survey-shows/
Suggested Distribution:
Printed Zines distributed in places frequented by 18-29 year olds, including college dining halls & student centers, gyms, bars/restaurants and coffee shops
e-Zines shared via college or business social media pages (Facebook, Instagram) as well as electronic newsletters.
Note: The QR code within and on the back of our zine links to a number of COVID-19 vaccine resources, which can be independently shared as printed or electronic material.