Posters for the Homeless
Joanna Lee
Student, UIC College of Liberal Arts & Sciences
Zhengxin Tang
Student, UIC College of Engineering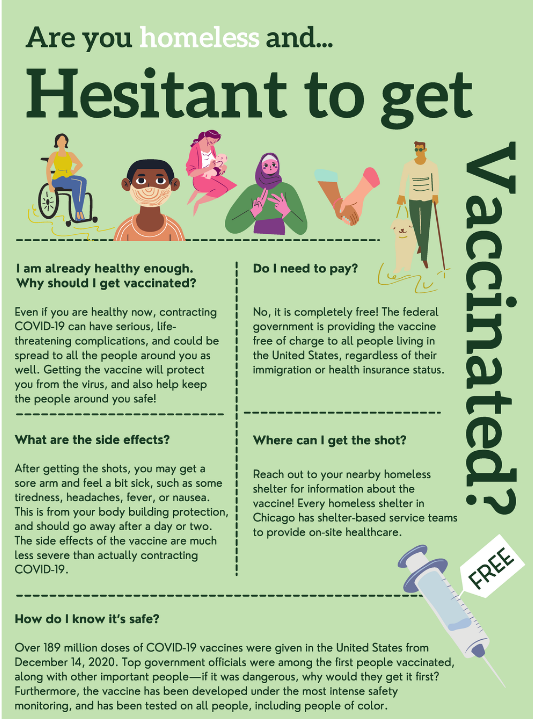 Rationale:
As students at UIC, it's hard not to notice the prevalence of homeless individuals in Chicago. These individuals often lack the resources to protect themselves from the COVID-19 virus, and thus are at greater risk of contracting and spreading the virus. Yet, despite their vulnerability, the homeless population rarely has access to reliable and accurate information on the progress of the pandemic, resulting in great disparities in the distribution of the vaccine. With the rampant spread of misinformation, as well as a deep-rooted mistrust of the healthcare system due to generations of abuse, it's understandable for the homeless, especially homeless Black, Indigenous, and People of Color (BIPOC), to be wary of the vaccine. Furthermore, some have not been vaccinated simply because they are not aware that vaccines are free and accessible through most homeless shelters.
Suggested Distribution:
Posters and flyers shared through establishments that offer support services for the homeless and/or distributed in conjunction with food, supplies, or healthcare.