Social Content & Posters for Chinese Speakers
Lucia Serrano
Student, UIC College of Engineering
Shuqin Yu
Student, UIC Graduate College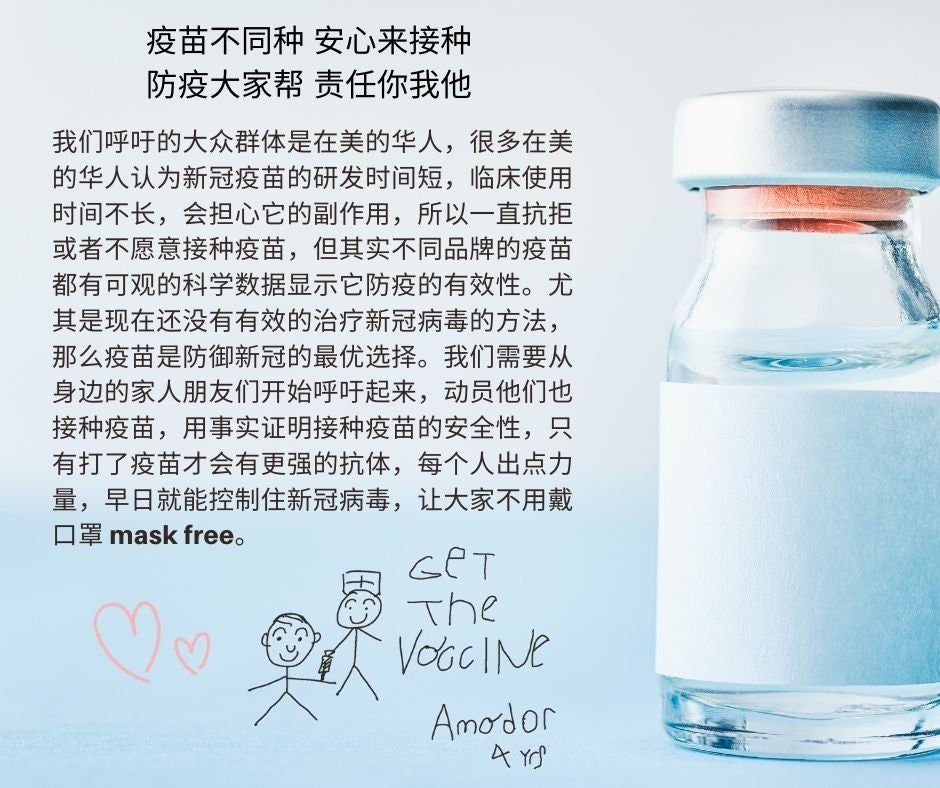 Rationale:
The Chinese media tends to emphasize worst-case side effects of each vaccine, including ranking vaccines by adverse reactions and amplifying real world and/or potentially related side effect cases. This type of coverage creates a negative perception of vaccines for the viewer, as they only hear about rare side effects that will not be experienced by over 99% of the vaccinated population. Sometimes opinion pieces hosted on well-known Chinese news media outlets are perceived as facts. Through the power of social media, these opinion pieces spread as a source of truth and bombard the Chinese population with misinformation, as they assume an opinion shared by a news source is factually correct.
Finally, due to the perceived fast roll-out of vaccines, the Chinese speaking population believes not enough research has been done to confirm all side effects or that it is almost 100% safe for human usage. This also leads the Chinese speaking community to believe that companies creating vaccines cut corners during the safety review, especially given the FDA's fast tracked approval.
This project seeks to counter the negative perceptions and misinformation associated with taking the COVID-19 vaccine among the Chinese speaking community in the United States.
Suggested Distribution:
Social media applications heavily used by the Chinese speaking community- including Weibo and WeChat- as well as Instagram and Facebook