Posters and Social Content for Black & Latino/Latina Young Adults
Victoria Ogunniyi
Student, UIC College of Liberal Arts & Sciences
Erick Calderon
Student, UIC College of Liberal Arts & Sciences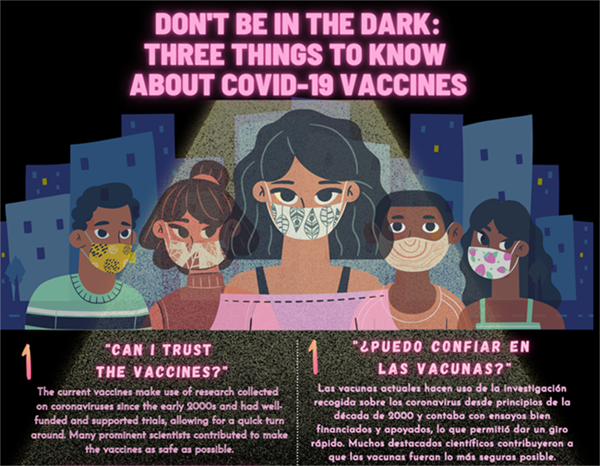 Rationale:
Unfortunately the coronavirus pandemic has disproportionately affected Black and Latino/Latina communities. Hesitancy among these communities may be due to a lack of understanding about how the vaccines work and why it is worthwhile to get them. For example, one common sentiment is suspicion over the emphasis on increasing vaccine compliance within the Black community because it is reminiscent of the unfortunate history of medical experimentation on Black people. Similarly, the lack of messaging adapted for Spanish-speaking Americans may also lead to miscommunication and distrust.
In plainly answering some of the questions and concerns heard in real life, this project hopes to encourage vaccine uptake by facilitating better understanding and validating concerns. Moreover, younger generations can further translate these messages to the older community members in a way they can better understand.
Suggested Distribution:
Online poster dissemination via social media and electronic communications – like newsletters and emails.
Grassroots flyer distribution in Chicago neighborhoods, including sharing handouts and engaging in dialogue with passerby.