ILLInet RECOVER Will Help to Solve the Medical Mystery of "Long COVID"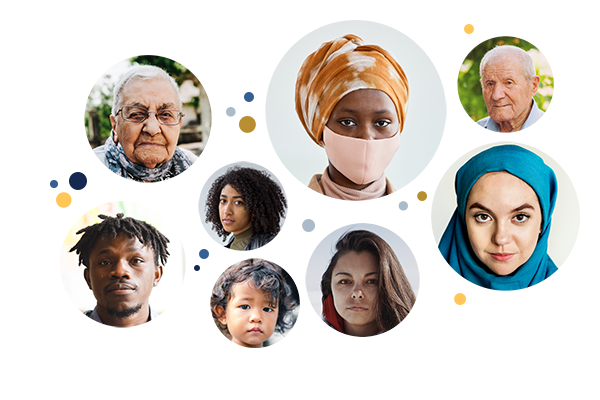 Some people with COVID-19 have lingering symptoms stretching for weeks, even months before they begin to recover. Experts call it post-acute sequelae SARS-CoV-2 infection (PASC)—known more commonly as "Long COVID"—and it is a medical mystery that is complicating an already complicated disease.
Dr. Jerry Krishnan, professor of medicine and Associate Vice Chancellor for Population Health Sciences at UIC, is leading a team of researchers studying why some recover quickly from COVID-19 while others don't. Estimates suggest 10% to 30% of people who get COVID-19 will develop Long COVID. According to the CDC, as of February 28, 2022, the total number of cases in the United States reached nearly 79 million. Meaning between 7.9 million and 23.7 million Americans likely have or have had Long COVID.  This can no longer be considered a rare phenomenon.
Krishnan heads ILLInet RECOVER, an Illinois-based research consortium focused on what makes an individual vulnerable to Long COVID. Funded by the National Institutes of Health (NIH) "Researching COVID to Enhance Recovery" (RECOVER) Initiative, ILLInet RECOVER works with health centers, community-based organizations, and faith-based organizations in Chicago and Peoria. They bring together patients, caregivers, clinicians, community leaders, and scientists to understand, prevent, and treat Long COVID.
The study leadership includes Dr. Terry Vanden Hoek, Head of Emergency Medicine and Chief Medical Officer for UI Health, Dr. Sarah de Ramirez, Associate Professor and Vice President for Clinical Innovation for OSF Healthcare, Dr. Heather Prendergast, Professor of Emergency Medicine and Associate Dean for Clinical Affairs in the College of Medicine, Dr. Wayne Giles, Dean and Professor of Epidemiology in the School of Public Health, and Dr. Bellur Prabhakar, Senior Associate Dean for Research in the College of Medicine and Professor of Microbiology &  Immunology.  Co-Directors of the UIC Center for Clinical and Translational Science (CCTS), Dr. Robin Mermelstein, Professor of Psychology and, Director of the Institute for Health Research and Policy and Dr. Richard Novak, Professor of Medicine, serves as the liaison between ILLInet and the CCTS, and Dr. Jonathan Klein, Professor of Pediatrics and Associate Vice Chancellor for Research, serves as the Study chair for ILLInet RECOVER, helping coordinate the work of the Multiple Principle Investigators and the many other subject experts serving on RECOVER's national working groups and committees.
Many Moving Pieces Over a Complex, Ever-Changing Landscape
ILLInet includes over a dozen organizations in Illinois working together to enroll a diverse group of study participants into the RECOVER study. ILLInet will use a range of approaches including community outreach, clinical and research registries, and collaborations with community- and faith-based organizations in both inner-city neighborhoods and rural settings.
"We worked with Drs. Mermelstein and Novak and others at the CCTS to plan for the NIH application and build an interdisciplinary team that allowed ILLInet RECOVER to draw on existing research infrastructures across UIC," Krishnan explained.
Krishnan noted that the CCTS's contributions included scientific and operational decisions to support the design and implementation of the study protocol in ways that are acceptable and feasible in our local context.   "The CCTS helped guide our strategy for a pro-active approach to early and continuous stakeholder engagement, which is critical to the success of complex studies like RECOVER," added Krishnan, "It played a key role in helping UIC become a Hub in the national RECOVER Initiative."
ILLInet RECOVER is recruiting and enrolling patients who have had COVID over the past two years both with and without Long COVID symptoms as well as healthy control patients.  To learn more, visit www.illinet.org and submit the brief interest form.  A member of our study team will reach out.
The ILLInet RECOVER team is also working with the UIH clinical team to connect patients needing clinical care.  Learn more about UIH's Post-COVID clinic.
Modified on April 02, 2022